Nvidia recently announced its Nvidia EGX platform for edge environments. With this, the chipset manufacturer now makes artificial intelligence applications and solutions available to end users in those places where data is actually created.
According to the chipset manufacturer, companies and organizations increasingly want to analyze their data using artificial intelligence or machine learning at the place where it originates, namely at the edge of the network. This data does not need to be sent to a (public) cloud environment or on-premise data centre first. This includes data from the growing number of IoT sensors.
So far, this has been difficult, because companies still often need to use large systems, a lot of processing power and a lot of bandwidth to carry out these calculations and analyses in cloud environments. Moreover, this transport of data provides a lot of latency via the company network. According to Nvidia, this means that real-time applications for artificial intelligence are not yet really available.
Nvidia EGX platform
With the arrival of the Nvidia EGX platform for edge environments, this should change. This platform makes it possible to perform calculations for artificial intelligence at the place where the data is created, so that end users can immediately analyse and respond to this data.
For this platform, the chipset manufacturer did not use its recent powerful Tesla V100, for deep learning, and Quadro GV100 artificial intelligence processing solutions in this platform, but a specially designed low-power Jetson Nano processor. This processor has to be able to do half a billion calculations per second with a few watts for processes like photo recognition.
Collaboration with RedHat OpenShift
In addition to providing applications for artificial intelligence on the edge of the network, Nvidia is now also investing heavily in partnerships to make this technology come into its own. This is how the entire NVIDIA Edge Stack software portfolio running on the now introduced chipset platform becomes available for RedHat OpenShift. By integrating with this orchestration platform for Kubernetes, the chipset and graphics card manufacturer ensures that the EGX platform uncle is compatible with modern software applications.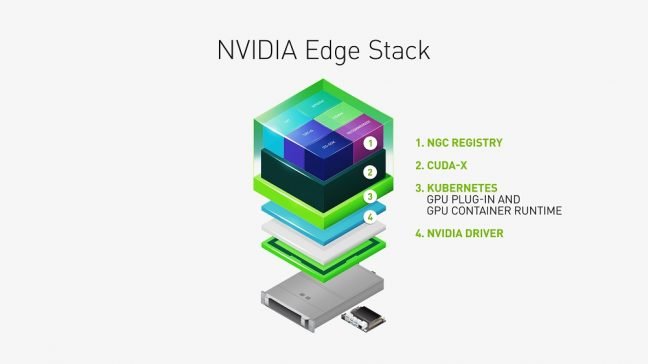 Hardware and cloud environments
Of course, hardware is not forgotten either. The EGX platform must also integrate the security, storage and networking technology of the Mellanox that Nvidia will acquire. In addition, the now announced platform is available through suppliers such as Cisco, Dell EMC, HPE and Lenovo. Other partnerships include Abaco, Acer, ADLINK, Advantech, ASRock Rack, ASUS, AverMedia, Cloudian, Connect Tech, Curtiss-Wright, GIGABYTE, Leetop, MiiVii, Musashi Seimitsu, QCT, Sugon, Supermicro, Tyan, WiBase and Wiwyn.
The Nvidia EGX platform is also compatible with various (public) cloud environments such as AWS, Azure and more specifically AWS Greengrass and Azure for IoT Edge.
This news article was automatically translated from Dutch to give Techzine.eu a head start. All news articles after September 1, 2019 are written in native English and NOT translated. All our background stories are written in native English as well. For more information read our launch article.